Mute Experiment
I wanted to build or buy a mute that really worked well, and would, at the same time, be easy to install and remove.

A towel stuffed in the back of the banjo and held in with the resonator is extremely effective, but isn't easy to install and remove. Not only do you have to take the resonator off and reinstall it, but the towel tends to push against the back of the head, changing the tuning. So I have to re-tune every time I use this method.

I like the idea of metal mutes that slide or clamp onto the bridge, but they're not super effective, and the good ones are not cheap.
So I figured that if I could essentially change the head by covering it with something, it would be effective, hopefully cheap, and quick and easy to install and remove.

I came up with this: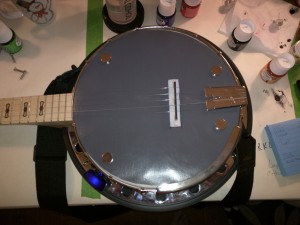 This is a sheet of vinyl cut to the size of the head and held in place by magnets. The material is shower liner (used in the construction of showers and similar to line the pan of the shower and make it waterproof under the tiles). I used some a few years ago to repair the area under our kitchen sink, and had some left over.

I glued magnets onto the back of the head to help hold the material in place. I figured that magnets would be an easy way to secure the material quickly. I suppose that the magnets make a difference to the sound of the banjo when it's not muted, but they are close enough to the edge of the head that I can't tell.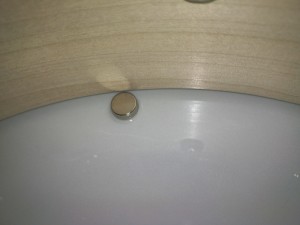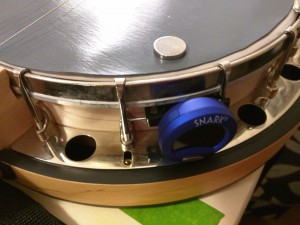 Here's a short video showing what it takes to install the mute. It only takes me as long as it does in the video because I'm doing it one-handed.


And this is a comparison of the sound with the mute off and with it on.


As my wife pointed out, it makes an instrument that is pretty ("for a banjo") and makes it ugly. I have to agree. I'm trying to find some other material I can use, preferably in white.